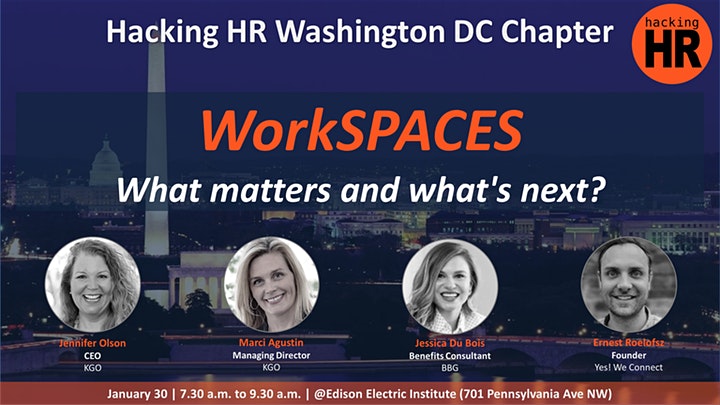 WorkSPACES: What Matters and What's Next?
Hacking HR Washington DC Chapter (HackingHR D.C.) presents:
"WorkSPACES: What Matters and What's Next?"
Join HackingHR D.C. for the first event of the year where we will focus on the most impactful piece of collaboration within an organization: WorkSpaces.
During this session, we will unravel the complexities around choosing a workspace, how physical and virtual spaces can work together to maximize collaboration, and what to expect in the near future. This session is designed for HR leaders, Business Owners, and Operations.
HackingHR will be joined by special guest, KGO, a real estate and change strategy consulting firm in D.C. KGO will present ideas and knowledge around what really matters within creating a workspace for your organization. The presentation will be an interactive discussion where attendees are encouraged to ask questions or share thoughts on current and past successes and struggles.
A light breakfast and coffee sponsored by Business Benefits Group.
SHRM credit is available.