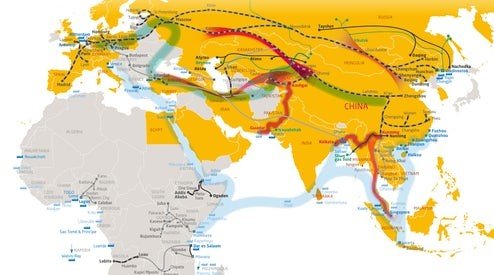 Silk Road Summit – Conference – US Congress/African Union
The Eurasia Center and The Eurasian Business Coalition
in cooperation with
The Silk Road Nations and their Representatives (Europe/Asia/Africa)
present:
"The Silk Road Summit - 3rd Annual Conference"
Exploring Business, Trade & Investment Opportunities ($5 Trillion)
on the New Eurasia/African Silk Roads, US Congress/African Union Washington, DC
Register early and Receive a 50% discount,  Email Director@eurasiacenter.org
Monday, November 4th from 9:00 a.m. - 7 p.m. (including Breakfast, Lunch, Transportation between venues & Evening Reception) THE US CONGRESS & THE AFRICAN UNION CONFERENCE CENTER 1640 Wisconsin Ave. NW, Washington, DC 20007
Please welcome Ministers and Specialists from the Silk Road Nations and other famous Speakers.
Information and registration at www.eurasiacenter.org
Please join us for The Silk Road Summit – 3rd Annual Conference Exploring Business, Trade & Investment Opportunities from Europe through Central Asia to the Pacific, and along the Indian Ocean 'Maritime Silk Road'. Multiple infrastructure and energy financing initiatives are now converging to galvanize unprecedented investment activity in this vast region. This 'Project of the Century' will amount to over $5 Trillion in project and contract opportunities – and our Conference will provide actionable intelligence on these developments to the American and the international business community, policymakers, other stakeholders and the public.
The Eurasia Center/Eurasian Business Coalition will provide an overview of the extraordinary opportunities that are becoming available to countries, companies and individuals to become a part of what is arguably the Project of the Century. This event will allow you and your colleagues to interact with those officials and business representatives from America, China, India, Kazakhstan, and many other New Silk Road nations who are actively seeking contact with American companies, both large and small, to open communication channels and expedite trade, direct investments, and a wide range of business opportunities. There will be executives and representatives from U.S. corporations, and officials from U.S. Government agencies involved in trade promotion and overseas project financing. The Silk Road Summit will allow for a deeper penetration of this vast market by US companies, many of which are not yet familiar with these regions and the new opportunities they offer.
Registration Questions: Email: Director@eurasiacenter.org or call 202-494-0773